Over one of the round soft hills, and suddenly there is a grove of trees. An out of place grove of trees, which can't even be seen for most of the walk. This (pod? leave? root) that's it, a random group of trees is now called a root of trees.
–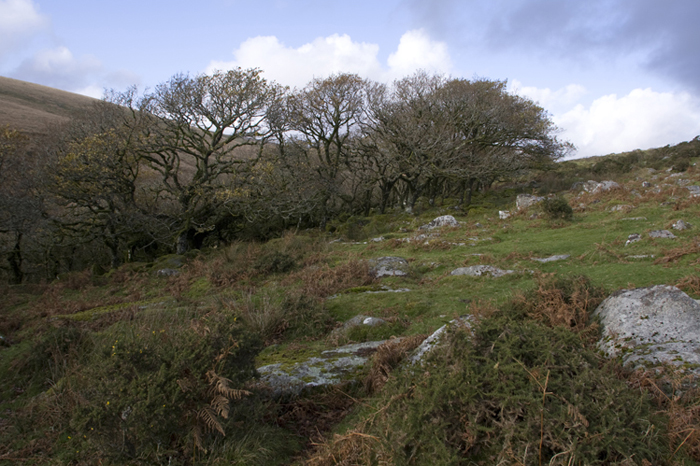 –
Where was I, oh yes, this root of trees standing in an almost perfect rectangle, next to the small stream, is filled with oak trees, gnarled and twisted oak trees. The weather here, all 80 inches of rain a year (same as the Amazon Jungle), and the wind, twist the oaks into strange formations. While the trees guard, or protect the ground underneath their strange limbs so mosses and lichen can grow on the ankle twisting boulders.
–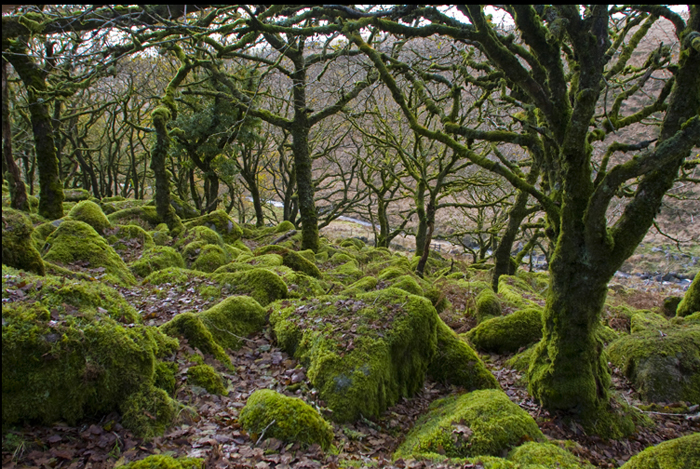 –
Everywhere there is something growing, even parasitically on the branches themselves.
–

–
Just below the root of oaks, is the stream, guarded by a modern stone wall, and an even more modern fence of barbed wire.
–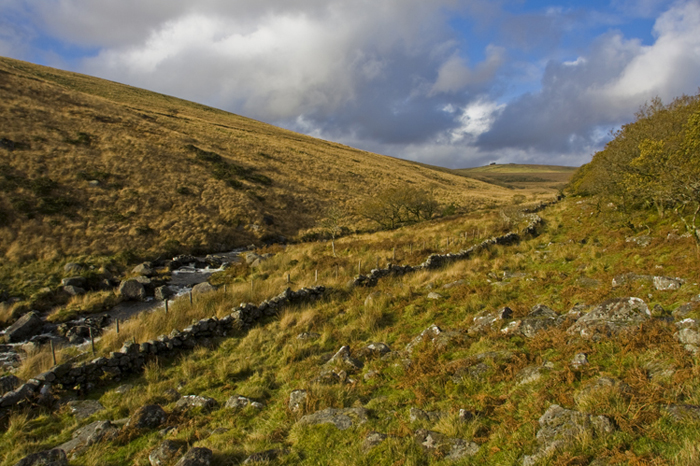 –
On the other side from the stream, a grassy path leads up the hill to the tors. Which is where my mother decided to turn round, and search out the warmth of the hotel.
A tor is basically a jagged section of rock sitting on top of the hill. They're here because the loose soil has eroded away, leaving this chunks of granite, left over from the Carboniferous Period (360-300 million years ago).
But basically to us, there good things to climb upon.
–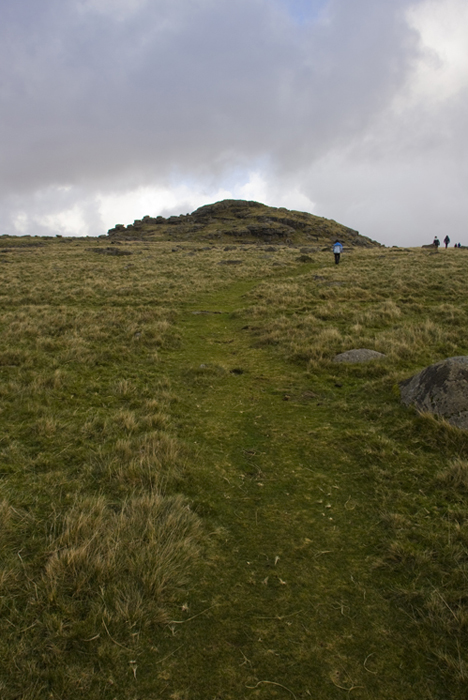 –
As the moors themselves are guarded by a spectral hound, and the paths are protected by Ian, the rampaging hippopotamus, so the tors are protected by a great white whale.
"Towards thee I roll, thou all-destroying but unconquering whale; to the last I grapple with thee; from hell's heart I stab at thee; for hate's sake I spit my last breath at thee."
–

–
But once past the perilous whale, I decided to climb the second of the three tors. So after a very simple climb I stood on the second, or middle tor, and looked down, toward the third tor, and the piling clouds and the invisible hotel at Two Bridges and smiled at the view.
–

–