Good Morning Therm. I can't believe you haven't been to London. It seems like every time I turn around you're jaunting off to some South Asian country just to make me jealous.
So London. For a day. What should you do?
The list of stupendous things to do in London is endless, and initially I was confused on what you should do, but I decided, in the end, to send you on the same walk I took a few weeks ago, when I got stuck in London.
A week before Christmas and it was snowing in London, my flight back home was cancelled, so I did one of my favorite things to do: Wander about London.
This is the walk I did on Monday December 20th, I call it: Tate to Tate. It begins at the Tate Britain museum, and ends at the Tate Modern museum, in between there are more museums, Churchill's underground lair, The Houses of Parliament, Westminster Abbey, 10 Downing Street, Trafalgar Square, (Buckingham Palace), St. Paul's Cathedral, the Thames, a few pubs, and of course, my name sake, Big Ben.
(At the bottom of this page is a crude map I stole from Google, and they say the walk is 4 miles long.)
My Aunt swears by the busses. And I must say, she has a point. They go more places than The Tube, they drop you, most times, closer to your destination, and you get to sit on the second story of a Red London Double Decker Bus. The view is wonderful.
But for some reason I love the Underground. I really don't know what it is. It's completely irrational, but I do it anyway. And it's not just because I get to hear "Mind the Gap" from the loudspeakers.
This walk begins at the Tate Britain Museum, on the River Thames, next to the Vauxhall Bridge. If you want to take a bus, here are the numbers of the busses that have stops at the Vauxhall bridge: 87, 88, 185, 360, 436. If you do take a bus, you can figure that out for yourself.
I take the Underground. And I even exit at an underground station that is not the closest to the Tate Britain. I exit at Victoria, while the closest is Pimlico. The reason I do this, other than Victoria Station being old and beautiful, is food.
This is the point when I normally get some breakfast, or lunch, depending on the time of day. And I do this at Marks and Spenser's. There is an M&S at the main front entrance to Victoria. (Be warned, Victoria has at least 3000 entrances and exits.)
M&S makes good, inexpensive food. I always get a couple sandwiches. Chicken and Bacon is wonderful, so is the Ploughman's (Cheese, lettuce, tomato and Branston Pickle.) Put your lunch in your bag, and eat it in the park next to the Houses of Parliament.
Take a stroll into Victoria Station, look up, this is what a train station should look like.
And don't forget to buy a few sweets. My favorites are the Flake, a yellow cigar shaped tube of wonderful chocolate. The Crunchie; honeycomb covered in chocolate and Fruit Pastilles; little sugar covered fruit softies.
Now find your way down to the River Thames. There are at least 50 roads leading away from Victoria in a broken spider web, so if you're turned around, you will get lost. This is when you look at your map, if you don't have one, walk back down the steps into the Underground, there are posters on the wall with a map of the local streets.
Find Vauxhall Bridge Road and walk all the way down to the Thames, make a left when you see the river, the Tate Britain is right there on your left. Just look for the building that looks like every romantic Greek building built in the last 300 years, steps, columns and a triangular roof face.
Back in the early 90's, when I used to visit London regularly, I made it a point to go to the Tate Gallery frequently. It was the modern art gallery in London. When I say modern, I mean the last 100 years or so.
In the last 20 years the Tate Gallery has changed its name to the Tate Britain. That's because there is a new upstart gallery in town that has stolen the name Tate, and called itself the Tate Modern. The Tate Modern is made from an abandoned power plant and is the end to this walk.
Today, outside the Tate Britain was a man selling The Big Issue magazine. It had Doctor Who on the cover, so I bought it for Anita and Kate. They seem to like the new bow tied Doctor, even though he is not Mr. Tennant.
Therm, you will see people all over London selling this magazine. I recommend buying one. It's sold exclusively by homeless, or down-on-their-luck people, trying to make a new beginning. The idea behind the magazine is pride. Giving it back to those who have lost it, by helping them help themselves to make money and to get back their lives.
I asked to take a photograph of the man selling the magazine, but he didn't like his picture being taken, but his dog did, so I took a picture of his dog, wrapped in a blanket, in front of the Tate Britain.
Officially the Tate Britain is free. It's free to walk inside and look at the perennial galleries. But the special exhibits cost money. Sometimes I go to the special exhibits, sometimes I don't. Today I did, because it was on Eadweard Muybridge (£11). Muybridge became famous for his photography in the 1870's because of a galloping horse.
He was the first, with multiple cameras and special shutter release mechanisms, to capture a horse in mid gallop. For the first time in history, human beings could see that at a specific point of the gallop, all four of the horse's hooves were off the ground.
But Therm, I don't know if you would be interested in Muybridge and his photography, I know you would have loved the full-scale mock-ups of a Harrier and Jaguar fighter jets in the main space.
Sadly these exhibits closed on January 3, 2011.
But here are some pictures to make you jealous.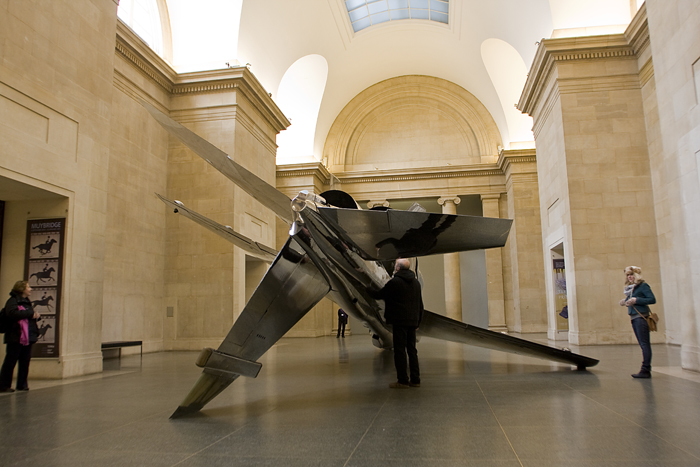 Once done with the Tate Britain walk across the street to the Thames and turn left. After a few blocks enter the garden and look up to see the Houses of Parliament. The British Parliament has been meeting here since the 13th century. But major sections of the building are only 150 years old.
Eat your lunch on the benches underneath the trees, overlooking the Thames, and dream of not blowing up the Houses of Parliament like Guy Faulks, or of blowing it up like V.
Watch the water flow past, and dream of 2000 years of history.
Here is a picture of your luncheon spot, I hope it will be warmer for you than for me.
Once lunch is over, walk through the park and back to the main street. Stand in awe, looking at the beautiful building where the British make their laws.
Now take a picture of Big Ben, because it's neat. The name Big Ben is actually the name of the bell inside the tower, not the tower itself, but it's such a common misconception that it doesn't really matter anymore.
Your picture might look something like this: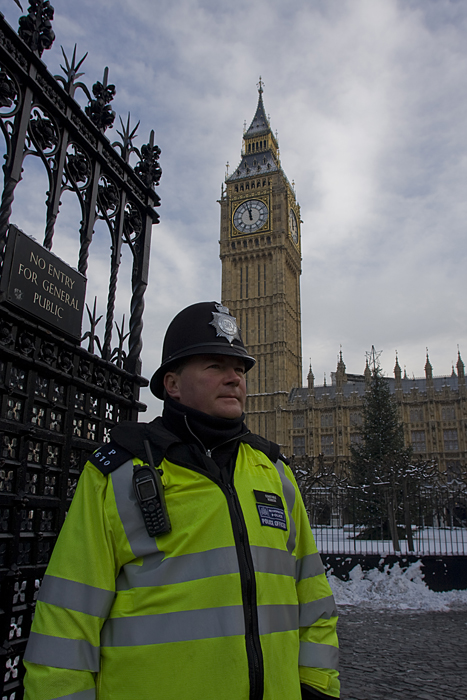 Now turn around, and there is a roundabout. Quietly repeat to yourself three times: "Look kids, Big Ben, Houses of Parliament."
To your left is Westminster Abbey, which is a church, and to your right Whitehall, which is a road, that leads to Trafalgar Square.
Now, the problem of being in London for one day, is that there are so many things to do, and so little time to do them. So you need to pick and choose. What I'm saying is this, I am going to point out a bunch of things to do, but you need to choose which one you want to visit, there isn't enough time for them all.
There are tours available of the Houses of Parliament, but foreigners are only able to tour on Saturday, and it's an hour and a half long, so I would avoid that.
But across the way is Westminster Abbey (£16), one of the most famous churches in England, and the resting place of more English people than you can shake a stick at. Most of the Kings and Queens are there, as well as many of their subjects, like: Charles Darwin, Lewis Carroll, Jane Austin, Sir Winston Churchill, Geoffrey Chaucer, William Blake and many many more. There is a list of all of them at the Westminster Abbey website (http://www.westminster-abbey.org/).
There is also Churchill's underground World War II bunker, officially called Churchill's War Rooms. (http://cwr.iwm.org.uk/server/show/nav.00f) I visited this about 10 years ago, and loved it. Concrete rooms mocked up to look like they did 70 years ago. If you do want to do this, it's hidden near the roundabout (£16, an hour and a half for the tour).
When done with the Houses of Parliament, Westminster Abbey and Churchill, walk up Whitehall. This is where the government happens. There is 10 Downing Street -where the Prime Minster lives- The Ministry of Defense, The Treasury, The Department of Health, The Foreign office and many more.
They won't let you in any of these buildings, so enjoy the stroll to Trafalgar Square.
In Trafalgar Square, above the four huge lions, on top of an enormous pillar, is Lord Nelson, who won, among other things, the Battle of Trafalgar. Which obviously was good, to get him such a big pillar to stand on for eternity.
Take a picture of the lions.
There are also fountains, which are beautiful in a dolphin-and-cherub-spitting-water-out-of-their-mouths kind of way.
One thing to note while in Trafalgar square: Immediately to your left when you enter is an archway with cars driving in and out, this is the entrance to The Mall and St. James' Park. At the end of The Mall, which is really just a wide tree lined road for the Queen to cruse up and down on in her horse-drawn-gilt-covered-carriage, is Buckingham Palace, where the Queen lives.
If the British flag is flying above the Palace, the Queen is in residence. If you want to see Buckingham Palace, now is the time.
In the northwest corner of Trafalgar Square is a platform for art. Every time I am there, there is something different. This time it was a ship in a bottle.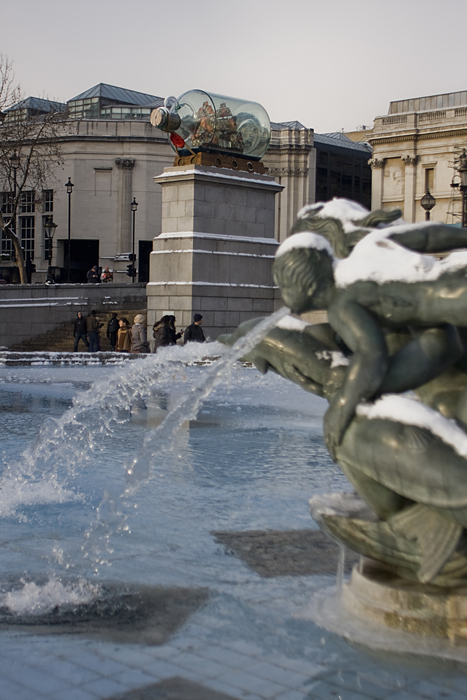 Overlooking the whole of Trafalgar Square, on it's northern edge, is the National Gallery, which has a colossal collection of paintings from the last 700 years or so, (Free (the gallery, not the paintings)). They have paintings by a few famous people: Da Vinci, Michelangelo, Van Dyck, Rembrandt, Goya, Monet, Van Gogh, and on and on.
Just around the right side of the National Gallery is the National Portrait Gallery, which I love because of the exhibitions of photographic portraits, but they also have painted portraits from hundreds of years ago to today. (Free, except for special shows)
When you are done with Trafalgar Square, head up The Strand. If you're lost, or don't have a map, don't forget to step down into the Underground to find a map.
The first part of The Strand is theatres, then there are a few very expensive hotels, with men out front wearing morning coats and top hats, to help guests with their luggage.
Around here are a bunch of pubs. Pick one, go inside and have a pint. I happened to pick one called The Wellington. It had tables and chairs outside, so I could watch the black cabs, double decker busses and people walk by.
I bought a pint of London Pride, because Mr. May told me to.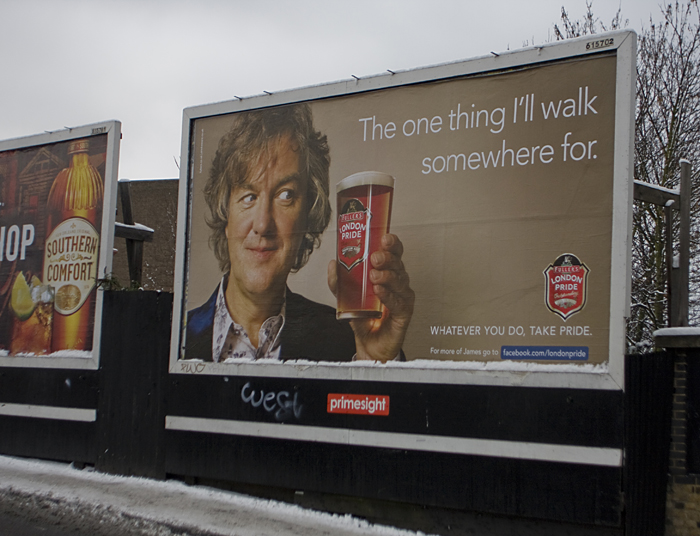 After the refreshing pint, continue walking up The Strand. There's a church in the middle of the road.
Then there is another church in the middle of the road.
I don't know how they got there.
Up ahead is a monument in the middle of the road, with a griffin on top. This is the place where the Temple Bar used to stand, and is the ceremonial entrance from the political Westminster into the financial City of London.
This spot is called The Temple Bar and was an elaborate gateway/arch that officially changes the street name from The Strand, to Fleet Street, and Westminster to The City of London. Fleet Street is known for its publishing and newspapers that began here in the 1500's. Now it is known for its law courts.
The gatepost was originally put in place to regulate trade in and out of The City of London. A gate has stood in this spot since at least 1293. But the distinction between Westminster and London eventually became ceremonial, and the stone gate that once stood here was moved in 1878 because it was a hindrance to traffic.
Continue walking up what is now Fleet Street, and stumble upon St. Paul's Cathedral, it looks like this: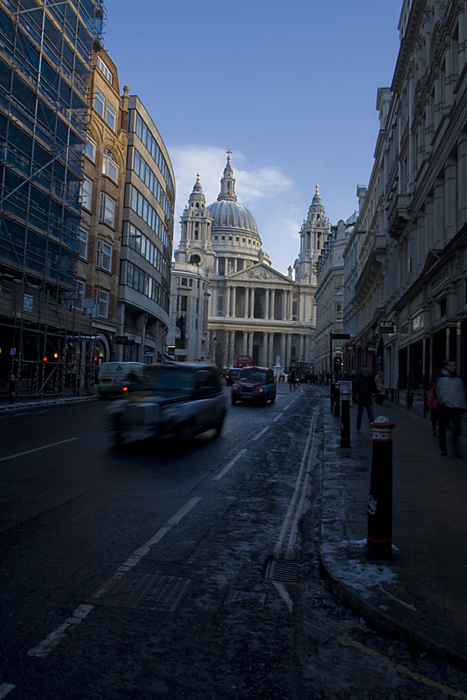 This is another one of the most famous churches in London. Where Westminster Abbey feels dark and somber -like most the gothic cathedrals in Europe- St. Paul's somehow feels light and new. Even though it's 300 years old. If you are limited in time, and need to visit just one church today, I would recommend Westminster Abbey. It has a greater feel of Old England about it.
When walking up to St. Paul's, keep to the right. There is a path that leads back down to the river, and the bridge across it to the Tate Modern.
The bridge is officially called The Millennium Bridge. But my Aunt says everyone calls it the Streak of Lightning. Built for the changing of the Millennium, it is all modern steel pillars and cables.
(While crossing the Streak of Lightning, don't forget to look to your left, that's the Tower Bridge just down the river, with the Tower of London off to it's left. You'll just need to return to London to see that.)
Below is a view of the Tate Modern Museum from the Streak of Lightning Bridge.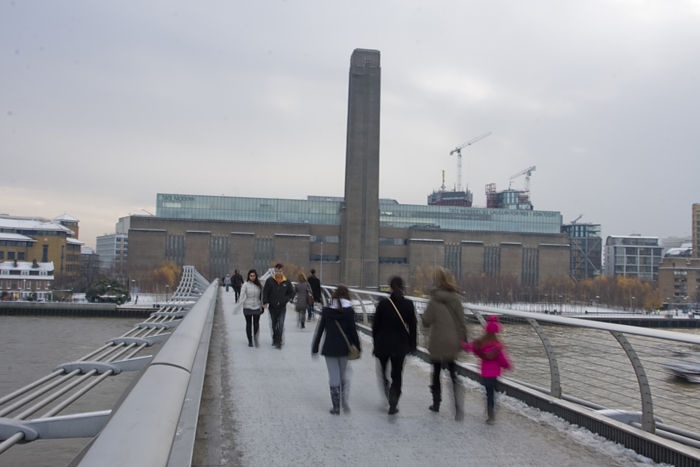 The chimney in the last photo, and the square building underneath it, is the Tate Modern. It is one of those art museums that is worth visiting just for the building. Kind of like the Getty Center overlooking Los Angeles.
The museum (free, except for special exhibits) is basically a five story tall rectangle. It was once a power generating plant called the Bankside Power Station, built in stages between 1946 and 1963. It was closed in 1981, and then refurbished into a museum and opened in 2000.
Inside, the building is split in half. On one side are the different floors, set up like giant bookshelves, overlooking the five story open space for art.
On the different floors are separate spaces for art, like, for example: The art of Soviet propaganda posters, Lichtenstein prints, Salvador Dali style paintings, modern art photographs, and pieces made from found junk.
One time when I was there, in the main five story space there was a thirty-foot tall cargo container, built to be a sensory deprivation tank. A hundred people walking in complete darkness with their arms out like zombies.
Beautifully creepy in a way museums are usually not.
This time part of the floor -itself half the size of a football field- was covered with artificially made Sunflower seeds.
I don't know why.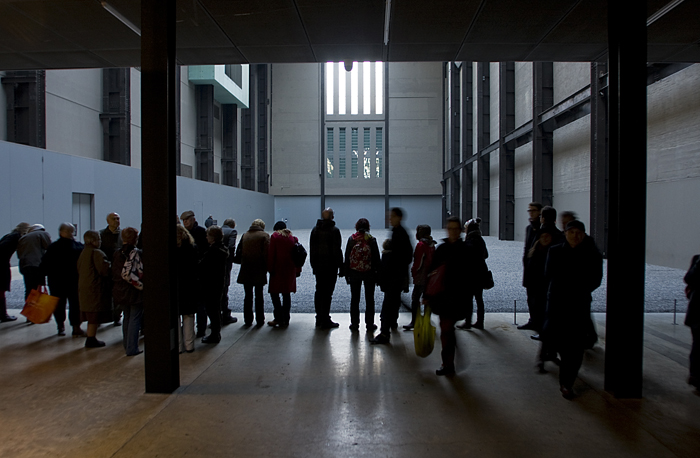 Well Therm, that is the end of the walk.
I hope you enjoyed your day out in London.
Now go and find another pub, you deserve a second pint.