London in Winter.
When the sun disappears at 4:30,
and the gray buildings reflect the gray sky and the gray trees,
all moments of colour stand in contrast.

Upon exiting the underground, on the edge of Hyde Park, the famous blue and red symbol glows in the darkening sky, London.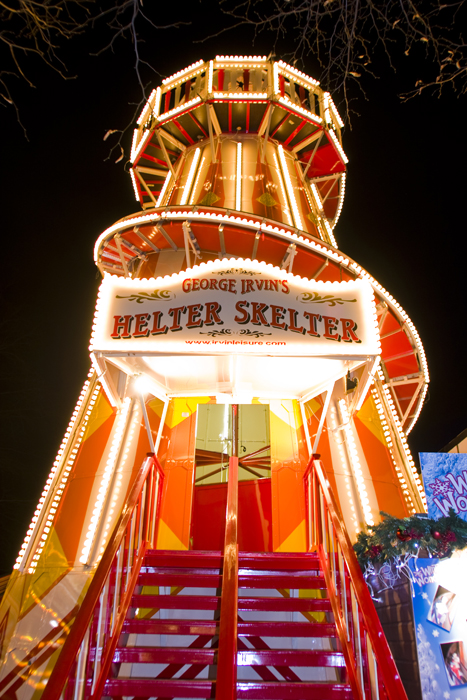 On the edge of Hyde Park stands a faire,
and in the middle of this faire is a Helter Skelter.
It's not just a Beatles song, it's a classic British faire ride.
Walk up the stairs in the center of the cone,
climb outside at the top and
ride the slide round the outside,
down to the bottom.
"When I get to the bottom
I go back to the top of the slide
Where I stop and turn
and I go for a ride
Till I get to the bottom and I see you again "
– The Beatles

As the rain falls in London, a group of tourists collect on the porch of the National Gallery, photographing the Christmas Tree in the center of Trafalgar Square in the background.

A road, just like any other in London, with the darkening sky and the cars with their headlights. This one happens to be just north of Oxford Street.

Walking through Hyde Park, just north of the Albert Memorial, with winter trees gray and naked, no green leaves covering their privates. A lady takes a walk with her white dog, who pauses to sniff a tree.